The Next $50 Winner Could Be You!
In celebration of our members earning 50 million nickels through Radiant's Nickel Back Rewards program, we giving you the chance to win $50 during the next 50 days*. Starting February 1, 2023, simply use your personal Radiant Visa Debit Card for a purchase transaction to be automatically entered in the next day's drawing*.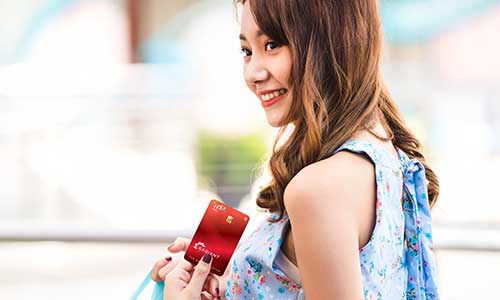 Nickel Back Rewards1
Your Radiant Visa Debit Card comes with our exclusive Nickel Back Rewards – earning you 5 cents every time you use your card for a signature purchase. No minimum. No forms. Plus, you get all of the security and worldwide use provided by Visa.

Use your Radiant Visa Debit Card for purchases.

Earn 5-cents every time you use your card for signature purchases.

5-cents will be deposited in your Radiant account each evening.
Benefits of a Radiant Checking Account
In additions to exclusive Nickel Back Rewards, Radiant Checking Accounts offer:
Free Checking
A free checking account with no monthly fees, unlimited check writing, no minimum balance, and no overdraft transfer fee.
Early Direct Deposit
Get paid up to 24-hours early2 with Early Direct Deposit. You get the added safety and security of direct deposit payments at Radiant while getting your money faster.
Even-Up Savings
Earn 10.00% APY3 with an Even-Up Savings account. Debit card purchases are evened-up to the next dollar, and your change is transferred to your Even-Up Savings account.
1Nickel Back reward paid on debit card signature transactions. Excludes purchases using your PIN, ATM transactions, or purchases of other financial instruments (wire transfers, money orders, traveler's checks).
2Early Direct Deposit is available for Radiant members that set up direct deposit with their employer or other payor to receive electronic deposits of regular periodic payments (such as salary, pension, or government benefits). Certain non-payroll and tax payments are not eligible for early direct deposit. Early direct deposits may be available to you up to 24-hours earlier. However, it depends on the timing of your payor's payment instructions, so you may not always see your direct deposits arrive early. Early direct deposit eligibility may vary between pay periods, and daily/transaction limits apply.
3The even-up amount will be withdrawn from your Checking Account and deposited into your Even-Up Savings. Dividend rate is 10.00%. 10.00% Annual Percentage Yield (APY) is earned on balances of $0.01 to $5,000.00. The APY for any amount over $5,000 is .05 APY. Rates are current as of January 1, 2023. Rates are subject to change. Please see the current rate schedule for current rates.
*Promotion Official Rules

Member Eligibility for Promotion: All Radiant Credit Union ("Radiant") Members in good standing who make a personal account Radiant Visa Debit Card transaction that posts to their account beginning February 1, 2023, and ending March 22, 2023, are automatically entered. Participation is limited to eligible persons who are 18 years of age or older and U.S. residents. By submitting an entry and accepting a prize you are bound by these Official Rules. For Non-members see Manual Entries below. Employees of Radiant, members of the Board of Directors and the immediate family members of each residing in the same household are not eligible. No purchase necessary.
Promotion: Radiant Members who conduct a personal Radiant Visa Debit Card "transaction" on any day during the promotion period, are automatically entered into the drawing pool for the next day following the posting of that transaction (see Manual Entries for alternate participation). Only Radiant Visa Debit Card personal account transactions posted to a Member's account will be automatically included in the next day's drawing. Each member (person) may have a maximum of 20 automatic entries per contest day. The drawing pool resets every day during the promotion period to include only the previous day's transaction postings. An individual member may only win a prize one time during the promotion.
Promotion Period: The Promotion period begins on February 1, 2023, and ends on March 22, 2023, and applies to entries received by Radiant each day during this period. Winners will be notified by Radiant using contact information on record. If any prize is unclaimed, an alternate winner will be chosen. A list of winners will be posted each Friday following the first full week of the promotion period. The final list of winners will be posted on Friday, March 24, 2023.
Transaction Eligibility for Promotion: An eligible "transaction" for the purpose of this promotion is considered a personal Radiant Visa Debit Card purchase made in person or online. Radiant Business Visa Debit Card transactions of any kind are not eligible for this promotion. Excludes ATM transactions (such as balance inquiries, account transfers, cash dispense) and purchases of other financial instruments (such as wire transfers, money orders, traveler's checks, gift cards).
Automatic Entries: Automatic entry and eligibility for this prize promotion is based on the Radiant member conducting a Radiant Visa Debit Card "transaction" on a personal account and that transaction posting to the Member's account. If the account is a multiple party account, the entry will be based on the primary account owner and each loan financed will receive one entry.
Manual Entries: No purchase necessary. All other (non-automatic) entries will be entered in the drawing for the next business day following receipt. Manual entry consists of a written entry on a 3 x 5 piece of paper setting forth the entrant's name, address, telephone number, and account number/member number if applicable. Entries must be mailed to: Radiant Credit Union at Attn: 50 Million Promotion, 4440 NW 25th Place, Gainesville, FL, 32606. One entry per envelope for manual entries; no photocopied or mechanically reproduced entries accepted; and Radiant is not responsible for lost, late, misdelivered, incomplete, or postage-due entries. Only one manual entry will be accepted per person and/or household per day of the contest.
Prizes: Radiant will award $50.00 each day for the 50 days during the promotion period resulting in 50 total winners of the cumulative prize amount of $2,500.00. Winning members will have the prize deposited in their primary share account unless other direction is requested. Non-members will be issued and mailed a check for the prize. The odds of winning will depend upon the number of transaction postings plus manual entries, which may be substantial. Radiant makes no assurances about the applicant's chance of receiving the prize.
Prize Claim: To claim the prize, all winners must acknowledge acceptance of the prize within seven (7) calendar days of being selected as a winner. Radiant Credit Union will make up to seven (7) attempts to reach the winner following the prize selection. If unclaimed, and at Radiant's discretion, a prize is forfeited. The prize will be awarded only if entrant has complied with these Official Rules. No cash or other consideration will be paid.
Agreement: You agree that entry into the Promotion did not induce you to become a member of Radiant Credit Union or obtain a checking account with Radiant during the Promotion period. Void where prohibited by law. All federal, state and local laws and regulations apply. By accepting a prize, a winner consents to the use of his/her name and photograph or likeness for advertising and promotional services without compensation. Prize winners are responsible for all federal, state, local or other taxes or other assessments that may be associated with or imposed upon the winner of any prize in this promotion.
Release of Claims: All winners, members of any winner's household, relatives and persons who use any prize awarded by Radiant, and such person's heirs, assigns, executors, and administrators release and exempt Radiant and its directors, officers, employees and agents from any and all claims, actions, demands, choses in action and damages which they have now or any time in the future arising from use of any prize, including personal injury or death.
Winners: The name of the prize-winners will be posted at all Radiant branches and will be published in other information resources (including Radiant's website). Winners will be selected each business day during the promotion period in a random drawing from among the eligible entries received. The selection of the prize winners hereunder will be final