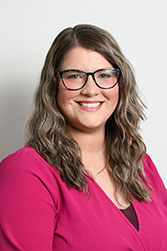 Caity Townsend
Mortgage Loan Processor
NMLS# 1930701
Phone Number: (352) 381-5200 ext 5138
Email: ctownsend@radiantcu.org
Caity is a Gainesville local with a passion for providing excellent service with a smile. Caity has worked at Radiant Credit Union for more than 10 years and brings her experience and positive energy to the team. Accuracy and efficiency are the pillars of her success, and she prides herself on being dependable to her members and her team. It is very important to Caity that her members have a positive experience, so she strives to make every interaction a pleasant one.
Our members are talking
Radiant is great. They are so helpful ALL the time. They really care about their members. Can't say enough great things about them. Just went through a refinance mortgage and HELOC with them and they made it SO easy - amazing customer support.
V. Smith