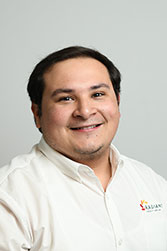 Jonny Martinez
Mortgage Loan Originator
NMLS# 1620224
Phone Number: 352-381-5200 ext. 5609
EMail: jmartinez@radiantcu.org
Jonny is a Florida native and prides himself in being client oriented. Jonny has more than 6 years of experience in the mortgage industry. He is known for his personal commitment and dedication toward managing workflow and structuring mortgage loans with the client's best interest in mind.
Our members are talking
Radiant is great. They are so helpful ALL the time. They really care about their members. Can't say enough great things about them. Just went through a refinance mortgage and HELOC with them and they made it SO easy - amazing customer support.
V. Smith