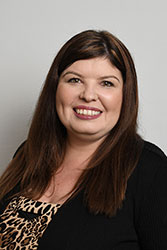 Pamela Dennis
Mortgage Origination Manager
NMLS# 457337
Phone Number: (352) 381-5200 ext 5694
EMail: pdennis@radiantcu.org
Pamela Dennis resides in Lake City and is an experienced lending professional. She has been with Radiant for 8 years and in the financial industry for 20 years. She is driven to providing excellent and sincere member service, where you are not just a member, but a friend. Her passion for real estate and member service has no bounds. She prides herself in making sure you have an exceptional experience, as well as helping each member reach the financial goals and dreams.
Our members are talking
Radiant is great. They are so helpful ALL the time. They really care about their members. Can't say enough great things about them. Just went through a refinance mortgage and HELOC with them and they made it SO easy - amazing customer support.
V. Smith