Thank You For Voting Yes!



SunState Federal Credit Union will change to a State Charter. Thank you for supporting your SunState Federal Credit Union Board of Directors and senior management team's strategic request to change our federal charter to State of Florida charter.

The conversion vote passed and will become effective January 1st, 2021.

January 4th, 2021 SunState Federal Credit Union will open it's doors as Radiant Credit Union.
STATE CHARTER FAQ
Why did SunState Federal Credit Union apply for a state charter?
The Board of Directors and management have given careful consideration to the advantages and disadvantages of converting to a state chartered credit union and believe it is in the best interest of SunState Federal Credit Union and our membership for the following reasons:
The credit union will be governed by the Florida Office of Financial Regulations. Regulators are located in Tallahassee, and the laws and regulations are specifically designed to address the needs of Florida residents. Emphasizing local rather than national focus on issues which are in the best interest of our credit union and our members.
The credit union will have greater flexibility to expand service beyond the current markets we serve today, positioning the credit union for the future. The current federal charter limits our ability to grow into new counties.
Measured growth will allow us to continue to offer competitive rates on savings and loan products, as well as to continue to improve the technology and services we offer, so that we can remain competitive in the marketplace and provide our membership with exceptional service.
What is the difference between a state and federally chartered credit union?
Federally chartered credit unions are regulated by the National Credit Union Administration (NCUA). Under a federal charter, growth is constrained, limiting membership expansion.
Florida state chartered credit unions are regulated by the Florida Office of Financial Regulations, which regulates all Florida state chartered credit unions and other financial institutions for compliance with the laws and regulations of the State of Florida. Additionally, state chartered credit unions must comply with rules and regulations from certain federal agencies. Credit unions that are state chartered have more flexibility to expand and grow.
Do members have to approve the change from federal to a state charter?
Yes. A notice and ballot will be sent to all eligible members. SunState Federal Credit Union will hold a meeting of the membership to vote on the charter change at our Main Office Branch located at 405 SE 2nd Place, Gainesville, FL 32601 at 10:00 am December 9, 2020. Members may also vote using the ballot and postage-paid envelope sent prior to the meeting or at any branch location. Ballots must be received by the date and time of the meeting.
When can I expect the charter conversion to happen?
The conversion date will be shortly after the special membership meeting and vote. The proposed date is January 1, 2021.
Is anything else changing?
In converting from a federal to a state chartered credit union you will see very few, if any, changes related to the new charter. Your deposits will still be federally insured by the NCUA up to $250,000.
Membership will be expanded to the following Florida Counties: Alachua, Bradford, Citrus, Clay, Columbia, Dixie, Gilchrist, Hamilton, Lafayette, Levy, Marion, Putnam, St. Johns, Suwannee, or Union.
Does this impact federal insurance coverage?
No. Credit Union deposits will continue to be federally insured by the NCUA, meaning you have up to $250,000 in protection for an individual account. The NCUA provides separate insurance coverage for deposits held in different ownership categories such as individual accounts, joint tenancy accounts, Individual Retirement Accounts (IRAs), and trust accounts. This insurance is similar to the banks' FDIC insurance.
What are the financial impacts of the charter change?
Management is confident that the income and growth opportunities associated with the change far outweigh any costs. Specific details are included in the notice sent to eligible members.
Will there be any changes to my accounts, loans or to the services I use?
This will be a seamless transition for our members. Account numbers and passwords will not change, and our existing branch network and business hours will remain the same. It will be business as usual for all members.
Will there be any change in SunState's rates and fees?
Deposit and loan rates and the current fee structure will not be impacted by the charter change.
Will the Credit Union grow so large that I will not receive the same service I expect?
Definitely not. The Credit Union has always had controlled growth to ensure members are receiving the same level of service they are currently receiving. In fact, as we grow we plan to provide even better service to our membership.
Will any branches and ATMs close or relocate?
No branches will close as a result of this change, but a branch or ATM may occasionally relocate to better serve members in a particular market. Financial institutions routinely close or relocate branches over a period of time as the population shifts. The Credit Union has always limited branch and ATM relocations unless absolutely necessary.
Name Change FAQ
Why is SunState Federal Credit Union changing their name?
We have set a goal to grow and expand beyond the counties where we have branches today, allowing us the opportunity to serve more members and become more accessible to a broader membership base within and beyond North Central Florida. Under our new charter, we are able to serve 15 counties across Florida. SunState has adopted a new name that encompasses our mission and purpose, while communicating the fact that all are welcome to join Radiant Credit Union. As Radiant Credit Union, we will continue our 63-year legacy of serving North Central Florida and transforming lives through financial education. Becoming Radiant Credit Union is only the beginning of our transformation. We will begin refreshing our branches, improving our website, introducing new technology and services, and more, all reflecting our commitment to adapt to the changing needs of our membership and our community. Please share in our excitement and enthusiasm for Radiant Credit Union and the bright future ahead.
When will the name change occur?
We have met the January 1, 2021 legal deadline to change our name and our articles of incorporation. The actual signage, documents, etc. will occur in January through June 2021.
What will the new logo look like?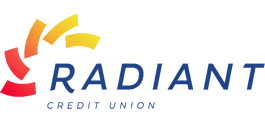 What will the new website address be?
The new website address will be www.radiantcu.org. Those trying to reach the old website will be automatically forwarded to the new website address. The new website will go live on January 4, 2021.
Will I need to download a new app for mobile banking?
No, an update will be pushed to the existing mobile banking app when the new mobile banking application is ready. It will not require re-enrollment and your existing credentials (username & password) will still work when logging in.
Why did you remove Federal from the name?
Removing "Federal" reduces the confusion about membership eligibility and is a requirement of converting from a federal charter to a State of Florida charter.
Is the name change a result of a merger or acquisition?
No, we are still the same credit union you have always known. The name change is not the result of a merger or acquisition of any kind.
Does the credit union have new management?
No, the familiar faces you are used to seeing have not gone anywhere!
Does the ownership of our credit union remain the same?
Yes. The ownership of our credit union still remains 100% owned by you, the members.
Have the credit union's phone numbers and email addresses changed?
Our phone numbers have not changed. Our email addresses will change on January 4, 2021. However, all emails sent to our current SunState email addresses will automatically be redirected to our new email addresses for a period of time.
Has online banking been affected?
Your online banking login credentials (username & password) remains the same, however, you will see a NEW look and an improved platform very soon!
Will my debit and credit cards still work?
We will automatically issue new debit and credit cards. You may begin using the new cards once you receive them. Your existing card(s) will still work until you activate your new card(s). More information will be provided with the cards.
I have direct deposits and/or automatic payments set up on my account. Do I need to do anything?
No, direct deposits and automatic payments will remain in effect.
Can I still use my SunState Federal Credit Union checks?
Yes, your checks still work. When it is time for you to re-order, your new checks will display the Radiant Credit Union name and logo. The routing number, as well as your account number, will remain the same.
Have branch hours of operation changed?
Our hours of operation have not changed.
Will we update the website with information periodically?
Yes! We will provide information periodically as new information becomes available. You may also visit any branch or call us at 352-381-5200.
Mobile App Update
On January 4, 2021 there will be an update to the SunState FCU's mobile app that will change it to Radiant Credit Union.
If you already have the SunState mobile app, you will be prompted to update to your app. There is no need to delete the current app and download a new app.
If you don't have the SunState Federal Credit Union mobile app before January 4, 2021, search for Radiant Credit Union in your favorite app store to download the mobile app. The new app update will be available starting January 4, 2021.