Credit and Debit Card Fraud
Card Cracking | Debit & Credit Card Fraud
Card Cracking
Local scammers are using a technique called "card cracking" to steal funds from members' accounts by getting the member's debit card and PIN. Members should be aware that providing such details to anyone places their funds at risk.
How are they scamming members? The scammer promises an easy way to earn money by depositing a check or money order into the member's account. The check or money order is fraudulent. Funds are then withdrawn from the member's account against that deposited check or money order. When the check or money order is found to be fraudulent, the funds are already gone, and the member's account suffers the loss of funds.
The offered checks or money orders are often just under various deposit thresholds, such as $4,999.00. Such amounts can represent a substantial loss to any member.
Steps for our members:
Do NOT provide your Debit Card details and PIN to individuals promising easy earnings.
DO NOT keep your PIN with your Debit Card. This allows your "lost" card to then be used to access your account. And do not use simple PINs such as 1234 or 4321 – it is not secure and easily guessed.
Report such contact or individuals to law enforcement and the Radiant Credit Union Fraud Team.
It is NOT LEGAL to make fraudulent deposits to an ATM or financial institution – even if someone tells you it is legal.
Individuals making fraudulent deposits to an ATM, are, in fact, committing fraud and may be held criminally and financially liable.
As always, if you have any questions about calls you are receiving or suspect fraud on your account, please feel free to contact us with any questions.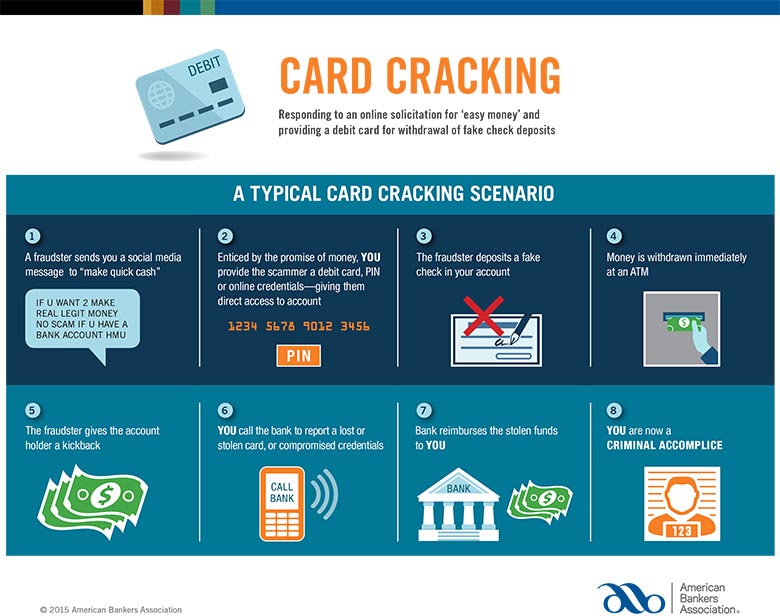 Debit and Credit Card Fraud

Debit and Credit card fraud generally occurs when cards or card numbers are compromised. By following these simple guidelines your potential for loss can be minimized.
Tips for protecting yourself against card fraud
Keep a list of all your cards including the account number and phone number to the issuing company.
Review your card statement as soon as possible. Match charges with your receipts to ensure all charges are yours and are for the correct amount.
Always sign a new card immediately.
When making a purchase with a card, make sure you get the card back and the receipt. Check the receipt for accuracy.
When using a card at a restaurant or store, make sure that all blank lines are marked through so that no one can change the final amount.
Never sign blank card receipts.
Only travel with the cards you plan on using.
Never give the account number of the card over the phone unless you initiate the call.
When making an order over the telephone, try to avoid using a cordless phone. Cordless phones messages can be easily intercepted by devices as unsophisticated as baby monitors and police scanners.
Do not write the PIN for the account on the card.